Manufacturing & rebuilding services
Our company specializes in the repair, and manufacturing of machine components for Mechanical presses and Screw Conveyors or Augers.
Some components we specialize in repairing are:
Stainless Steel Augers / Screw Conveyors
Brass Bushings
Concrete Hammer Mill Shafts and Assemblies
Hydraulic Cylinders
Press Tie Rods
Injection Molding Machine Tie Rods
Press Fly wheels and crankshafts
Our re-manufacturing process is comprehensive and easy, whether it's a gearbox or mechanical press. A representative thoroughly examines your machine, then provides a written quote for re-manufacturing. The machine is then shipped to us and completely disassembled. Every part is inspected to determine the level of wear compared to original factory specs, then cleaned and re-machined if necessary. After rebuilding with new parts, the machine is then tested at full capacity to ensure optimum performance.
We can also provide a service representative to supervise on-site start up and machine operation. Full documentation of the project is provided for your files. All re-manufactured machines come with a full one year warranty.
Screw Conveyor / Auger Rebuilding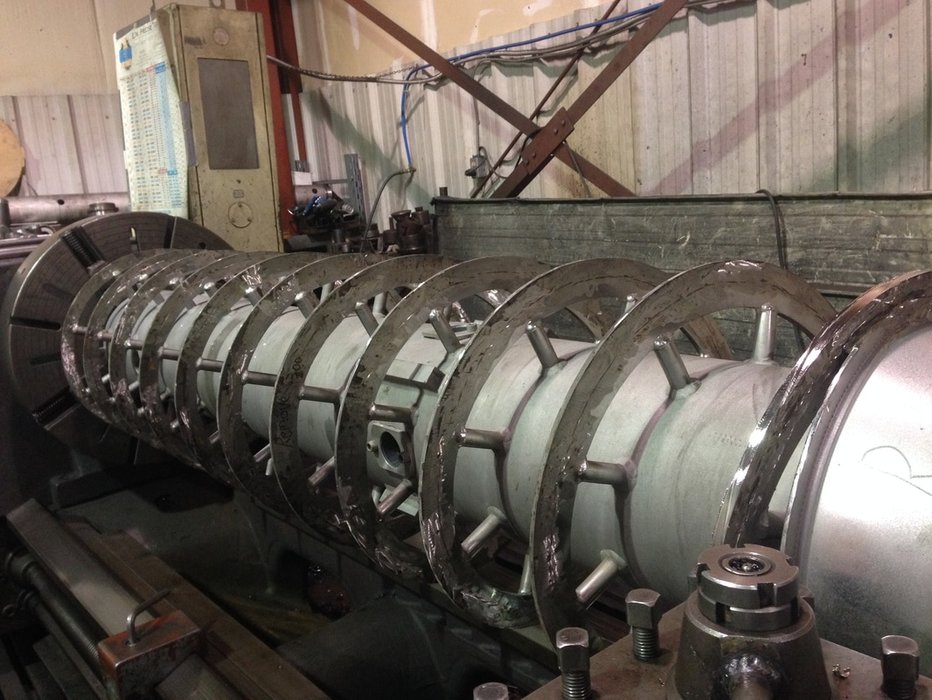 We offer complete rebuilding & repairing on all types of Screw Conveyors and Augers for Agriculture, Industrial Machines or Heavy Construction Equipment.

Services Include:
·Building up weld worn out flights or replace with new flights as required
·Machining of flights and bearing journals
·Manufacturing of replacement chrome shafts (English and metric)
·Rebuilding & Refinishing on sealing surfaces
·Replacing bent and worn out drive shafts

We can't be a specialist in everything so we have searched and found some of the most reliable and trusted vendors to ensure you get the best possible product on time. Our most trusted vendors understand the correct processes in repairing your parts and we take the lead to ensure every project is a success. Some of these include welding of Stellite on the flights, chroming or grinding of bearing and seal areas and ultrasonic testing.


---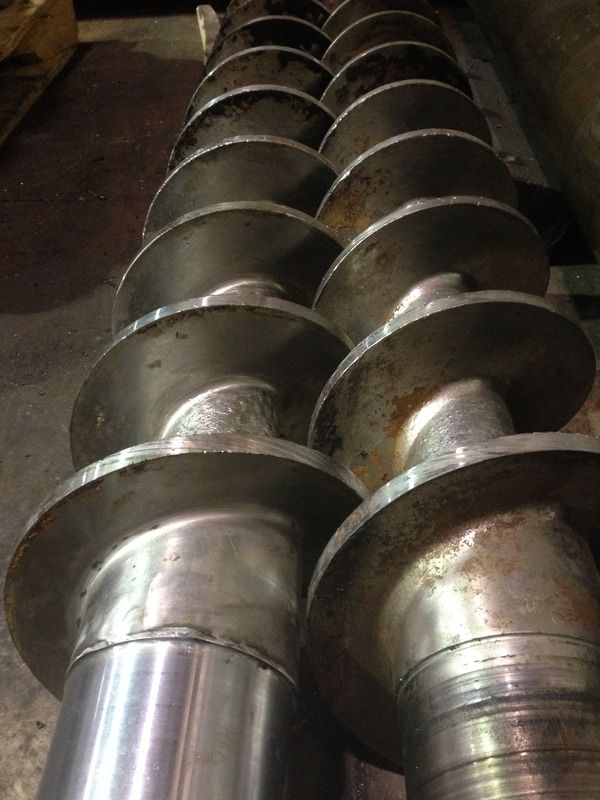 Two spare 60" long screw conveyors in for inspection and repair for a chocolate manufacturer. These were bent 3/8" from center and were straightened. We also replaced the entire drive shaft on one unit while refurbishing the chromed and sealing surfaces on both units.
---
Machine Shop - Cambridge, ON Canada

Service and Products: Gun Drilling, Deep Hole Drilling, gundrilling, CNC Machine Shop in Cambridge, ON, CNC Service in Cambridge, ON, Custom Machining in Cambridge, ON, DNN, Welding in Cambridge, ON, Fabrication in Cambridge, ON, Machine Shop in Cambridge, ON, Steel Fabrication in Cambridge, ON, Screw Machine Shop in Cambridge, ON, Contract Machining in Cambridge, ON, CNC Machining in Cambridge, ON, Precision Machining in Cambridge, ON, Contract Machine Shop in Cambridge, ON, Precision Machine Shop in Cambridge, ON. Large Diameter turning, Long shafts. Screw Conveyor, Auger Repair, Auger rebuilding, Auger manufacturing